A happy book birthday to the following Apocalypsies!
WHAT SHE LEFT BEHIND by Tracy Bilen (Simon Pulse)
In this suspenseful thriller, Sara and her mother are going to secretly escape her abusive father—when her mother mysteriously disappears.Sara and her mom have a plan to finally escape Sara's abusive father. But when her mom doesn't show up as expected, Sara's terrified. Her father says that she's on a business trip, but Sara knows he's lying. Her mom is missing—and her dad had something to do with it. With each day that passes, Sara's more on edge. Her friends know that something's wrong, but she won't endanger anyone else with her secret. And with her dad growing increasingly violent, Sara must figure out what happened to her mom before it's too late…for them both.
THE VICIOUS DEEP by Zoraida Córdova (Sourcebooks Fire)
For Tristan Hart, everything changes with one crashing wave.

He was gone for three days. Sucked out to sea in a tidal wave and spit back ashore at Coney Island with no memory of what happened. Now his dreams are haunted by a terrifying silver mermaid with razor-sharp teeth.

His best friend Layla is convinced something is wrong. But how can he explain he can sense emotion like never before? How can he explain he's heir to a kingdom he never knew existed? That he's suddenly a pawn in a battle as ancient as the gods.

Something happened to him in those three days. He was claimed by the sea…and now it wants him back.
WELCOME CALLER, THIS IS CHLOE by Shelley Coriell (Amulet)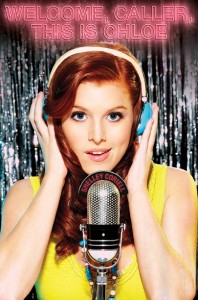 Big-hearted Chloe Camden is the queen of her universe until her best friend shreds her reputation and her school counselor axes her junior independent study project. Chloe is forced to take on a meaningful project in order to pass, and so she joins her school's struggling radio station, where the other students don't find her too queenly. Ostracized by her former BFs and struggling with her beloved Grams's mental deterioration, lonely Chloe ends up hosting a call-in show that gets the station much-needed publicity and, in the end, trouble. She also befriends radio techie and loner Duncan Moore, a quiet soul with a romantic heart. On and off the air, Chloe faces her loneliness and helps others find the fun and joy in everyday life. Readers will fall in love with Chloe as she falls in love with the radio station and the misfits who call it home.